Half Of The UK's 10-Year-Olds Own A Phone
According to a recent 2019 study by Ofcom, the number of children owning phones, aged 9-10-years old, has doubled. Ofcom has now dubbed this the 'age of independence'.
Ofcom's annual report, named Children and Parents: Media Use and And Attitudes Report 2019, is a comprehensive study conducted with 3200 parents and children around the UK. The study assessed how children use media and the type of devices used.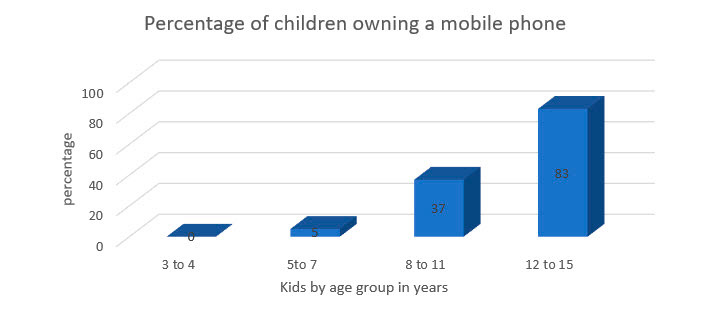 Not only has the amount of 9-10-year-olds owning mobile phones doubled, but the study finds that the use of smart speakers among 8-15 years olds has too. The conventional radio is being left behind; for the first time, smart speaker use has overtaken.
YouTube is still the most-watched platform, beating Netflix and the likes of BBC and ITV. The 5-15-year-old group believes there is a far wider choice, and it allows them to watch instantly. When asked if they could only watch one platform, and which would they choose, 45% of 5-15-year-olds said YouTube, 32% agreed Netflix and only 17% stated it would be BBC or ITV.
WhatsApp has gained much more popularity and is now in the hierarchy of Facebook, Snapchat and Instagram as one of the top social media sites that children use. This leads to another surprising statistic- only 5% of parents know that WhatsApp specifies you need to be 16 years or older to use the app!
TikTok and Twitch are also rising in the ranks with 13% of 5-15-year-olds using TikTok, launched in 2017, and 8% using Twitch, a live stream gaming platform.
Facebook is still a firm favourite with 69% of the group having a profile on the renowned social media platform. 25% of children aged 10-year-olds that go online have a social media profile of some form. This rises to 43% in the 11-year-old category and then to almost all of the secondary school-aged 15-year-olds that were interviewed. Yet 40% of the children feel a strain to be more popular, either all or most of the time spent online. And many are unsure of what is acceptable, or not, to say online.
The likelihood of being bullied online stands about the same as in real life, face to face. Still, there is a marked rise in bullying with young people who are online over 10 hours per week. These kids are twice as likely to say they have been bullied.
With this in mind, it has been reported that children are also seeing more hateful content online than ever before. Several of the minors interviewed report having seen violence and/or disturbing content while online. This has led to an increase in parental concern about the content their offspring can gain access to, such as images of self-harm and other distressing views.
Parents are also more concerned with in-game spending and gaming-related bullying. Around half of parents don't have any parental controls set up on their children's devices. This may include time limiting their screen time and age restriction controls. This lowers to 39% of parents with 12-15-year-olds. Fewer parents are confident they know enough themselves to keep their teenager safe online. This may be due to a teen being a little more tech-savvy, using phones while out and about and using them at night after bedtime. It is harder for a parent to track usage time by this age.
The ICO has drawn up proposals regarding online child safety, requiring companies to provide better security. These proposals are hopefully going to be heard by autumn 2020 and come into force fully by 2021 if approved. Click this link for an in-depth explanation of said proposals. https://ico.org.uk/media/about-the-ico/consultations/2614762/age-appropriate-design-code-for-public-consultation.pdf
And coming soon to Notty - Notty Social Buddy, allowing you to get to know your child online.