What Is A Data Breach?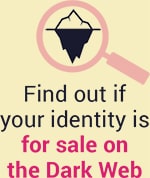 Data breaches explained
How is a breach accomplished?
Our FraudWeb searches
DATA BREACHES
and
MORE...
Emails
Postal address
Bank accounts
Credit card
Phone number
Online logins
National insurance number
Passport number
Driving licence
What do companies need to do if they discover a security breach?
The UK GDPR introduces a duty on all organisations to report certain personal data breaches to the relevant supervisory authority. You must do this within 72 hours of becoming aware of the breach, where feasible.
If the breach is likely to result in a high risk of adversely affecting individuals' rights and freedoms, you must also inform those individuals without undue delay.
You should ensure you have robust breach detection, investigation and internal reporting procedures in place. This will facilitate decision-making about whether or not you need to notify the relevant supervisory authority or the affected individuals or both.
You must also keep a record of any personal data breaches, regardless of whether you are required to notify.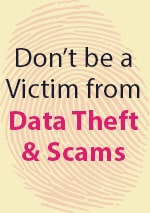 Data breach examples
What could happen to my stolen data?
| | |
| --- | --- |
| Netflix account | $0.50 |
| Hacked Facebook account | $74.50 |
| Hacked Gmail account | $155.73 |
| Stolen PayPal details | $198.56 |
| Driving licence (US) dependent on quality | $70 - $550 |
| Passport (US, Canada, Europe) | $1500 |
| Full medical record | $1000 |
| 1,000 followers/likes on Instagram | $7 |
| Cloned Visa card with PIN | $25 |
| Bank account logins, min $100 balance | $35 |
| Malware | $70 - $6000 |
Can I prevent a data breach?
Use a safe and secure way of monitoring for your details being available to Cyber Criminals with our Fraudweb Lite or Fraudweb Full
Ensure all software is up-to-date. Many updates contain new security patches which are necessary.
Download McAfee Total Protection onto your devices with your Notty account. This helps to protect your devices against all types of malware.
Use different passwords for each site and/or account you use. Combine upper and lower case letters, numbers and special characters and the longer the better. It is thought that every 8 character passcode has now already been cracked! McAfee Total Protection has a password manager that stores all the passwords for you, saving you having to rely on memory!
Where possible, utilise two-factor authentication (also known as multi-factor authentication). This adds another layer of security, such as a fingerprint or facial ID, when signing into accounts.
Monitor bank statements and credit reports regularly for any unusual activity or unfamiliar transactions that you have not made.
Ascertain the security of a site by acknowledging whether it has an 'S' after 'HTTP', ie. 'HTTPS'. That 'S' is integral to it being secure!
With your Notty account, take advantage of the free dark web searches that we perform to see if any of your details are for sale on there. We do not put your details on there during the process of searching, and if your details are found, we will notify you and inform you about what to do next.
Never click any suspicious links contained in emails, or give out any details over the phone. Reputable companies will not ask for such details via email or over the telephone.

Don't be a Victim!
Stay ahead, don't be tangled in a Notty!
What should I do if I'm a victim of a breach?
The main action needed is being aware of what is happening with your data after a leak, it is available for cyber criminals to use. Fraudweb Full monitors a full range of your personal information, including credit/debit cards, passport details, driving licence, logins, passwords, bank accounts plus more. Ongoing searches, looking for any sign your information is being used and giving you alerts if anything is found.
Monitor bank accounts etc. and credit reports for a few months. If there are any suspicious transactions on your bank or credit card statement, contact the bank immediately.
If you begin to receive cold calls, ask them to confirm details about your account, such as monthly cost for a service, or the date of the direct debit. If necessary, terminate the call and search for the company's number rather than use one they supply. Where possible, use a different phone too.
If the data loss causes anguish or financial distress, you may have a case for compensation. You can lodge a complaint with the company that suffered the breach and you can also inform the ICO. They are not able to give compensation but by lodging a grievance with them, it may add weight to your case.